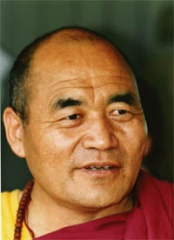 Venerable Traga Rinpoche is an accomplished Dzogchen master, having received profound foundational and the most advanced teachings from some of the greatest living masters of Tibetan Buddhism — including His Holiness the Drikung Kyabgon Chetsang, His Eminence Garchen Rinpoche, Khenchen Jigme Phuntsog and many others — and completed many retreats.
From Garchen Rinpoche, Traga Rinpoche received teachings on all Drikung Kagyu texts on regular Dharma service and practice, the five-fold Mahamudra, the entire Dzogchen Yangzab teachings, and many profound pith instructions.  He then did his Dzogchen Yangzab retreat at Lho Miyel Gon monastery.
In early 1984, Traga Rinpoche received full gelong ordination from the Nyingma master Khenpo Munsel, who gave him the detailed teachings on Dzogchen "Cutting Through the Resistance to Primordial Purity." Khenpo Munsel gently looked at Traga Rinpoche and said, "Your karmic propensity is to practice Dzogchen.  I am your karmic lama.  If you can meditate, you have today found the way to liberation in one life.  You will never find something like this even if you went to look for it with your horse's hooves encased in steel.  Spend one year near me and meditate." For the next seven years, he did retreat near Khenpo Munsel, and practiced Cutting Through, Passing Over, and many other advanced practices.
In 1998, Lamchen Gyalpo Rinpoche — determined to make Traga Rinpoche's vast knowledge and profound experiential understanding of the highest level of Dzogchen teachings accessible to as many students as possible — enthroned him as "Lopon Rinpoche" (Precious Master), with lavish praise for his hard work and outstanding achievements.  H.E. Garchen Rinpoche selected Traga Rinpoche as the retreat master and resident lama at the Garchen Buddhist Institute, and asked his students "to have full confidence in Traga Rinpoche, just as I have full confidence in him."